NEWS

TALKS

PROJECTS

RESEARCH

TEACHING
The Atlantic - CityLab: Muscat
Muscat sits on the Gulf of Oman, where the rocky Hajar Mountains rise up behind the city, leaving only a narrow strip for building. This geography—combined with the fact that the favored architectural style is one of whitewashed, low-rise buildings—has created a city design with incredible lengthwise sprawl. The capital is physically the size of Los Angeles, but houses less than a quarter of that city's population of 3.9 million. It's a very low-density city.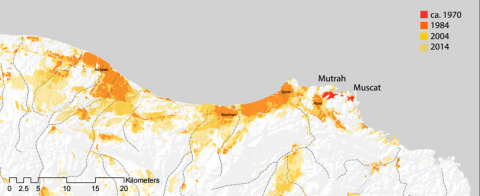 Such a unique city layout and such a small population—plus heavily subsidized gasoline provided to citizens by the government—have made cars an easy, attractive means of transport, no doubt contributing to the country's love of all things automobile. "It's the ultimate car-based city," says Aurel von Richthofen, an architect with Future Cities Laboratory Singapore who conducted research on urbanization patterns in Oman from 2010 to 2014. "Muscat's sprawl affects mobility and transport even more than in sprawling American cities like Los Angeles," he tells CityLab.
http://www.citylab.com/cityfixer/2016/05/experimenting-with-public-trans...