NEWS

TALKS

PROJECTS

RESEARCH

TEACHING
Bab Al Bahrain examines how a politically charged square in Bahrain can become a public space. Several devices are installed on the square to record activities and to engage the public in the production of the public space: Sous les pavés de Bahrain, la plage!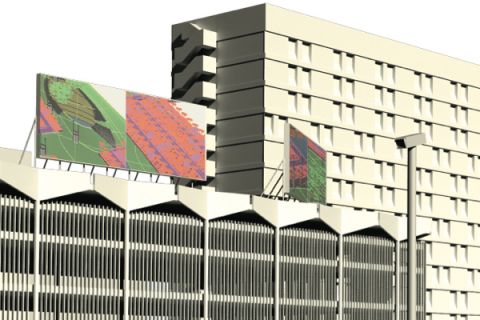 Bab Al Bahrain was once a public space at the entrance of the Souk next to the sea. Urban development and land reclamation projects have transformed the coast line of Bahrain forever. Just like most parts of the island Bab Al Bahrain has lost the connection to the sea.
But the sea is still there! As a salty water table it lies a few meters under the asphalt. 'sous les pavés, la plage' follows the slogan of May 68 both literally and conceptually. Literally, in the sense that it reconnects the heart of the city (Bahrain = two seas) with the sea. Conceptually, as an attempt to react to the events following the recent unrests in the Kingdom by offering a escape route past the veneer of the system.
The project proposes to dig a pit until the water table is reached. The pit is secured on the edges and supportsa gently undulating canopy at street-level that forms the new square with a grid of columns. Three large openings in the canopy reveal the water below. Stairs and ramps descend to these openings. Mangroves grow in the salty marshes of the beach below ground and filter the water. The natural water table is constantly held in motion by floating car parks. These car parks are swimming pontoons. The weight of a typical car (2 tons) displaces 2 cubic meters of water below and sets off a rippling wave that will eventually reach the 'shore'. The sea - its shape, sound, smell and motion - is completely man-made.
A system of CCTV cameras is linked to the oversized LED billboards on the neighboring buildings. These cameras constantly records back to back in opposite direction. No space on the square is left without coverage - a stage set for the production of publicity.
Authors: Aurel von Richthofen 

Place: Bab Al Bahrain, Bahrain
Year: 2012
Size: n / a
Type: Competition
Client: Ministry of Culture Kingdom of Bahrain