NEWS

TALKS

PROJECTS

RESEARCH

TEACHING
Barcelona Student Excursion
In spring 2012, GUtech's 'Student Experts' attended the annual Computer Aided Design convention 'WoodStEx 2012' held in Sitges, Spain near Barcelona organized by Bjørn Wittenberg. During the convention the 'Experts' met with more than 200 fellow students from 21 countries all over Europe, representing 54 universities, attended 3 days of intense workshops and could experience the latest software technology.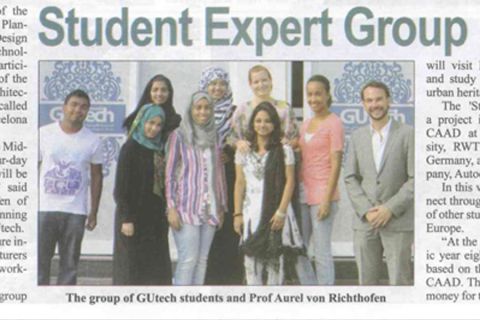 Aurel initiated the Student Expert Group at the German University of Technology in Oman in 2011. The 'Student Experts' Network is a platform sponsored by Autodesk Educational Services in Germany connecting students of architecture, urban planning and engineering across Europe, USA and now the Gulf Region. The 'Experts' meet on a voluntary basis to explore advanced topics of CAD such as parametric modeling, Arabic patterns and geometry, sustainable design in extreme climates and urbanization on the Arabian peninsula. 
Thanks to the student's effort in gathering sponsorship, the group also spent 4 days visiting the city of Barcelona to study the city's rich urban and architectural heritage. On the first day, the group met with Mr. Ibai Rigby of the Aga Khan foundation and studied the remains of Roman, Arab and Gothic influences that shaped the core of the city. Strolling through the narrow streets, students examined the dense urban fabric and the lively public spaces on squares and avenues of the Ramblas. On the second day, the group studied the urban transformation of the late 19th century, the so called Barcelona plan, designed by Catalan engineer Ildefons Cerdà. The students visited the neighborhoods of Eixample and Gracia characterised by their modern octagonal street pattern and magnificent art nouveau buildings. On the third day, students met with the local planning authorities and discussed the latest urban development - 22@ - one of the most ambitious urban renewal projects in Europe. The project aims at transforming a former industrial neighborhood into a knowledge city of the 21st century. As the project started in the year 2000 and is 60% complete, students were able to visit recent landmarks such as the Forum at Diagonal del Mar. The trip to Barcelona and the convention in Sitges formed a 7 day excursion that 'Student Experts' will never forget. 
The student Experts 2011-12 GUtech: Aya Al Balushi, Amna Al Sharji, Shaharin Hassain, Tasneem Khaleque, Rujaina Al-Kitani, Nujaida Al Maskari, Nasir Mamun and Michaela Schweizer