Gulf Research Meeting 2011
Present day Muscat Capital Area (MCA) developed over the last four decades. It is the largest urban development in Oman and characterized by a rapid urban sprawl. While many cities in the Gulf Region witnessed intense urbanization in the late 20th century until today, the results in MCA are surprisingly different.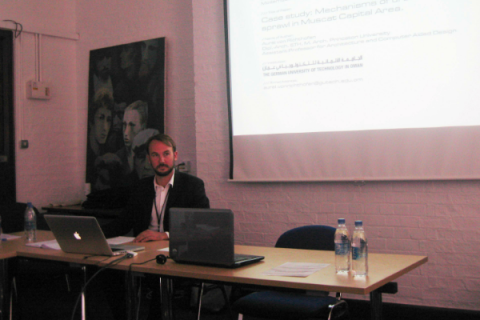 MCA is a predominantly low rise urban area and does not feature a skyline. The vector towards the present extension was set in the 1970s, shortly after HM Sultan Qaboos ascended to the throne. Due to the impossibility to plan the development at that time with standard methods, Oman adopted novel techniques of regulating the process in the form of Royal Decrees, specific instruments of the Ministry of Land Affairs, land allocation by lottery and the a financial institution issuing credits bound to building codes. These mechanisms remain unchanged to the present day, making MCA the ideal object to study the underlying urban genetics and the resulting phenotype. The rules and regulations are transformed into a parametric model of MCA. This dynamic, 3-dimensional model renders the current situation and can be amended with additional parameters for spatial optimization, environmental and ecological fitness as well as incorporation of cultural specificities in architecture drawn from vernacular precedents. Urbanization has the strongest impact on social, economical and ecological aspects of Omani society. The model negotiates these parameters and converges towards a sustainable urban design. The current mechanism of urban development is recognized as a strong vehicle to promote and orchestrate urbanization in Oman. The proposed model does not intend to supplement the current mechanism, it rather intends to amend to it an analytic tool that could define novel guides and regulations towards sustainability. 
NEWS

TALKS

PROJECTS

RESEARCH

TEACHING