NEWS

TALKS

PROJECTS

RESEARCH

TEACHING
The city of Zurich developed out of the changing relationship to its bodies of water. The medieval city was arranged on both sides of the river. The industrial city gradually opened towards the lake shore.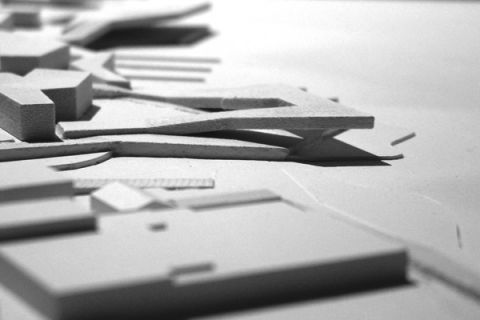 This urban re-orientation towards the city's prominent water front happened relatively late in comparison to cities like Geneva or Lucerne, thus a beaux-art water front was never completed. Modernist approaches in landscaping the shore remained fragmented. In contrast, Zurich Beach is radically embraces the lake. The project literally multiplies the shore line: Horizontally - in redesigning a meandering coast line of twice the original length; Vertically - in doubling the shore with a continuous line of cantilevering buildings. This strategy allows for a woven design, both in plan and in section, that accommodates various public programmatic entities: A conference center, theater, hotel, rowing facilities and a sailing center. The lake side promenade on the expanded shore line is totally public, ultimately linking city and lake.
While projects like Rotterdam Transportation Museum explore the thickness of facade and membrane systems and Nouvelle Comedie Geneve aims to create depth and dematerialization in flat envelopes, two explorations of expanded surfaces operate on a larger urban scale: Zurich Beach, 2005 and Re-For-Mat Berlin, 2007 operate on and critique the urbanism of "mat" typologies. Moving up in scale, the expanded surface registers the space of predominant horizontal movement and inhabitation.
Zürich Beach - Urban development on the shore of Lake Zurich, Switzerland. 
Thesis project ETH Zurich, 2004 / Aurel von Richthofen