AURELVR

DESIGN

RESEARCH

TEACHING
Compact city is a design for a sustainable neighborhood in Al Khoudh within the larger Muscat Capital Area based on cultural, climatic and economic criteria of sustainability. This model – both a research method to evaluate, interpret and integrate specific criteria of sustainability as well as a design proposal for a sustainable neighborhood - exemplifies an integrated approach to urbanism adapted to the local Omani conditions.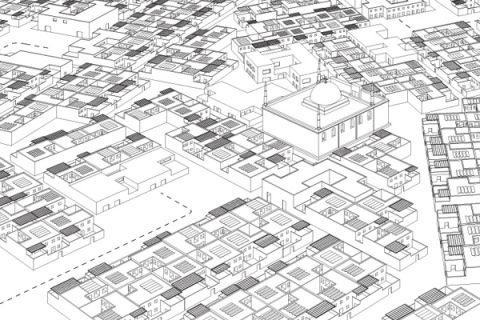 The project is anchored in a larger inter-disciplinary research project 'Towards sustainable urbanisation patterns in Oman'. It represents a method of investigating, evaluating and interpreting specific cultural, climatic and economic criteria of sustainability as well as an experimental urban design proposal to quantify and qualify the approach. The design proposal can be implemented with modest means due to its relative size. 
The proposal aims to develop an alternative to the present process of urbanisation in Oman: Urban sprawl - as witnessed by rapid land consumption, dependency on car-based mobility, use of depleting fossil fuels, deterioration of traditional lifestyle patterns and destruction of landscape. A sustainable alternative needs to be rooted in local culture and adapted to specific conditions of Oman. Previously imported concepts of sustainability failed to meet the complex social, cultural, climatic, ecologic and economic parameters inherent to Oman. The area suitable for urbanisation in Oman is located along the coast of the Indian Ocean. Urbanisation threatens the fragile balance of nature, agriculture and settlements that evolved over millennia. It destroys habitats for animals such as migratory birds, coastal fish, endangered sea turtles and endemic plants. 
The project uses parametric integration of sustainability criteria into a dynamic, adaptive, responsive and participatory urbanism engine. The design strategies are as follows: Densification of settlements to reduce the footprint of the city, shorten the distances to travel and to keep land reserves for the future, while addressing the demand for housing and diversification of the settlement functions. The model is therefore scalable and transposable to neighboring countries and beyond.
Authors: Aurel von Richthofen 

with Alessia Pegorin and Riccardo Del Fabbro

Place: Al Khoud, Oman

Year: 2013

Size: 2000000m2

Type: Research Project

Client: The Research Council Oman