AURELVR

DESIGN

RESEARCH

TEACHING
The design-research leading to Subway Sorter is rooted in an ongoing interest in the representation of traffic – here in the form of public underground transportation – as a means of spatial-temporal mapping of the city. Starting from the subway system of Manhattan, this comparative study models several metropolis' of the 21 century.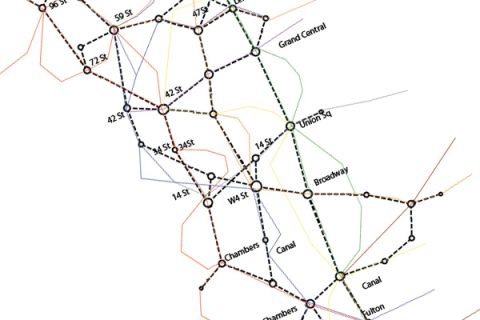 Subway Sorter is based on the idea that most essential information to the user of a subway network is the time it will take to reach the destination. Spatial information is secondary, as the space travelled is not visible. Subway Sorter inputs subway systems and re-organizes each segment on a time based scale. As the geography distorts a new map appears: Connection nodes between lines tie the system together, local stops in a line bulk out while the space between express stops shrinks, the linear shape of Manhattan inflates and wedges around the radiating satellites of Brooklyn, Queens and the Bronx. The systems of Paris and London re-organize to a grid-like map, while the star shaped plan of Moscow is resilient to the transformation. 
Implemented as an iPhone (1G) application in alpha stage Subway Sorter would feed on live subway operator data. Localization tracks the users position. The map re-adjusts and computes time and connections in a single dynamic map. 
Institution: aurel VR
Contributors: Aurel von Richthofen 
with Carlos Ramos da Silva and Sergei Mikhailenko
Year: 2011