AURELVR

DESIGN

RESEARCH

TEACHING
International Conference on Challenges of Urbanisation in Arab Gulf Countries March 23. - 25. 2014 
Venue: German University of Technology (GUtech) / Halban Campus
 Organisation: GUtech, Prof. Dr. Sonja Nebel, Aurel von Richthofen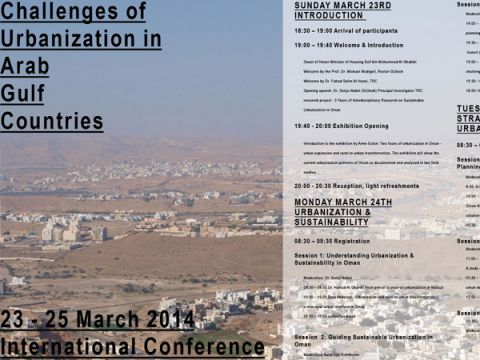 The conference presented and discussed final outcomes of a 3-years interdisciplinary research project on Sustainable Urbanisation Patterns in Oman, carried out by scholars from GUtech and SQU with the financial support from TRC, The Research Council Oman.
Findings were based on two case studies, one in the rapidly expanding Muscat Capital Area and another one in transforming rural areas around Fanja, that were presented in an exhibition accompanying the conference.
Speakers from Oman and abroad were invited to address sustainability as a socio-cultural, economic, environmental and administrative challenge of urbanisation not only in Oman but as well in a global scope.
The conference raised awareness and fostered a national discourse on regional and local particularities of urban management, planning and urban design towards sustainable urbanization.
More than 160 registered participants and 30 VIP guests attended the conference. Of those 57 participants came from Higher Education Institutes in Oman (SQU/SCD/HCT with ca. 45 students). The conference attracted guests from Birzeit University in Palestine, University of Kuwait and RWTH Aachen in Germany furthermore delegates from Omani ministries and the municipality of Muscat.
More information can be found here: http://www.urbanoman.org