AURELVR

DESIGN

RESEARCH

TEACHING
Elephant Park is a design for an elephant house with inner and outer spaces as extension to the Zurich zoo. The design maximizes visitor experiences though undulating layout in the landscape. The Elephant Park negotiates a series of programmatic constraints based on the nature of designing for elephants and humans alike, moving away from the classic separation of exhibit and observer.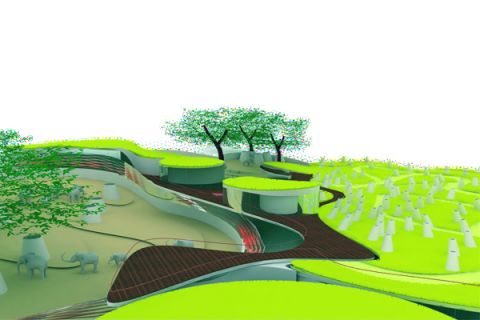 Conceived as an environment the Park exploits human-elephant contacts in a maximum of ways. A diagram of the "Vitruvian Elephant" in analogy to Leonardo da Vinci's famous drawing examines the range and reach of animals to derive a set of key proportions. Translated into a parametric model this diagram is applied to all zones of overlap between human and elephant spaces. In order to maximize these overlaps all spaces follow a loose organic geometry. As a result, visitors can observe the animals from closest possible distances and from all angles, without visual barriers. 
Far from being a simple extrusion in plan, the scheme gently drapes down the hillside. Visitors stroll over the grass roof landscaped as savannah to peek through termite mound-shaped light funnels. Pathways encompass all exterior elephant ranges and reconnect to lead visitors inside where the same diagram regulates the experience. Linking two different scalar economies (human / elephant) the system constantly adapts to differentiate moments of architectural specificity. 
Authors: Aurel von Richthofen
with Rushabh Parekh, Scott Kittle, Josh Lawrence, Anthony Prousi, Matt Canterna

Place: Zurich, Switzerland
Year: 2008
Size: 4000 m2
Type: Competition
Client: Zoo Zurich