AURELVR

DESIGN

RESEARCH

TEACHING
Sucre-glace is an compact ice-rink and sports stadium in the Swiss village of St.Cergues, located in the Jura mountains close to Geneva. The envelope is a consists of an inflated membrane and wooden space-frame.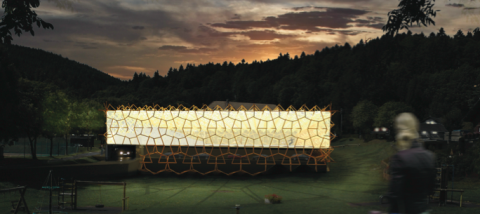 Sucre-glace is a design for a compact ice-rink and sports stadium in the mountain resort of St. Cergues in the Swiss Jura. The design responds to the setting of within the village and the existing facilities of the centre du Vallon. The organization of the sports rink is straight-forward and functional. The entrance leads visitors to the viewing ranks, while the athletes enter from a link to the neighboring building. Technical rooms are hidden under the grades to the West of the design. A parking is located under the building.
The light-weight composite envelope consists of a translucent membrane and wooden space-frame and is supported by positive air pressure. A grid of wooded knot consisting of three perpendicular beams each form a space-frame with a static height of three meters. The thickness of the beams relates to the structural loads. The beams are loaded predominantly with pressure. Resulting forces run in parallel direction to the wooden fibers. Steel cables and a polyethylene membrane take the tensile forces. The later closes the envelope climatically. Wood is used as renewable material. All materials can be recycled. The complex spatial knots are resolved using parametric design and digital manufacturing. On site construction will be reduced to a minimum. The smart combination of wood beams, steel cables and polyethylene membrane results in a lightweight building with a minimal carbon footprint.
Authors: Aurel von Richthofen 

with Thomas Pierce and Tom Pompeiani

Place: St. Cergues, Switzerland 

Year: 2010

Size: 6000m2

Type: Competition 

Client: Commune de St.Cergues