AURELVR

DESIGN

RESEARCH

TEACHING
Splügen is a landscape project located in the Upper Rhine Valley in Switzerland using parametrically designed "fins" to engage the river and manipulate the fluvial landscape. The Upper Rhine Valley is characterized by its pristine alpine ecology, yet, contrasted with a mayor highway connecting Germany and Italy running through it.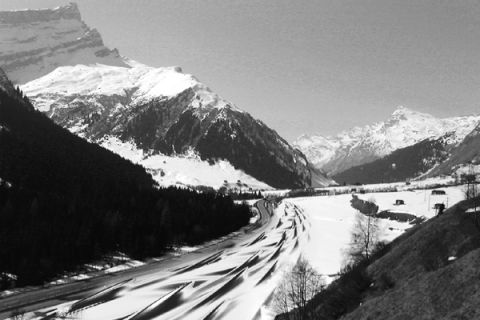 Articulating the impact of infrastructure on alpine landscape, Splügen Rest Stop is an expanding field of "fins" running along the highway for about one kilometer. The fins act as rhythm-keeper to passing vehicles, creating a cinematic effect of animation in landscape. In return the fins function as noise barrier to the settlement of Splügen. 
Besides their interaction with the highway and the village, the fins engage the river Rhine as well. The river is directly feed from glacial waters and regularly peeks in spring and fall when melting snow and rain drain into the valley. Fluvial changes are dramatic, eroding large areas of arable land, threatening roads and settlements. The changes in water loads have spurred in recent years, as global climate change impacts the Alps. The fins of Splügen Rest Stop act as piece de resistance, while the river becomes the motor for a gradual transformation of the landscape. Annual floods redirect into the field, sedimentation fills parts of the structure, while water slow down, relieving pressure on the river below. Sedimentation and erosion constantly change the appearance of the field of fins throughout time. Man-made, yet partly reclaimed by nature Splügen Rest Stop is an active landscape-infrastructure hybrid. 
The design of Splügen Rest Stop started with a parametrically controlled proto-fin. Designed in Maya and implemented in the coding language MEL in 2002, fins propagate by thousands, changing frequency, amplitude, direction and angle through a form-synthesizing feedback loop. After fabricating a series of test models with cnc-technology, the original nurbs-curved shape was translated into a triangulated model of which a 1:1 prototype was fabricated on site. The mock-up was then cast in concrete and placed in the Upper Rhine in early spring 2003. At our next visit a few weeks later the fin was gone. 
Authors: Aurel von Richthofen 
with Moritz Schoendorf and Lorenz Kocher

Place: Splügen, Switzerland
Year: 2002–2003
Size: –
Type: Self initiated
Client: –