AURELVR

DESIGN

RESEARCH

TEACHING
Maribor Bridge is a design for new footway and bicycle bridge Lent–Taborsko nabrežje. The proposed bridge is a light-weight construction combining air beams and tension cables in a new structural concept called "Tensairity".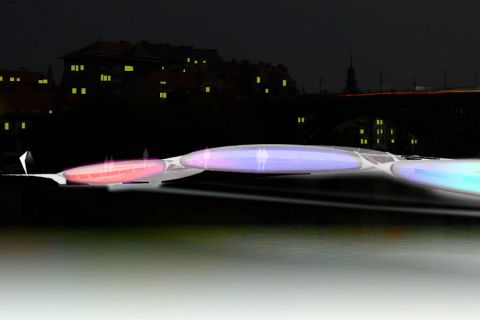 The bridge crosses Drava River next to the oldest bridge in Maribor, between the old port – Lent, and the Tabor bank (Taborsko nabrežje), and significantly shortens paths for pedestrians and bicyclists, thereby improving connections in the city centre at both banks of the river. Spanning the 130 meters wide riverbed of Drava River in three elegant articulated girders, supported by two columns anchored in the riverbed, with a height clearance of 3.60 meters the new footway bridge is designed to become the recognizable and innovative, transparent and neutral structure of the city.
The new structural concept Tensairity is a synergetic combination of a pneumatic structure and a cable-strut structure. The main function of the pneumatic structure is to stabilize the cable-strut structure. Tensairity structures have a multitude of very interesting properties. The beam or shell like structures are very light, thus ideal for foot and bicycle bridges. Furthermore Tensairity structures are load adaptable. The load-deformation response of Tensairity girders can be controlled by the air pressure which allows the girders to adapt to changing load conditions. As a consequence, Tensairity girders can be viewed as a machine, where energy is converted into work. The energy in form of the compressed air is used to lift a weight. The synergetic combination of an air-beam with cables and struts is ideally suited for wide span structures. In the case of the new footway and bicycle bridge Lent–Taborsko nabrežje, a sequence of interlocking girders span the river.
The air-beams are made of translucent EPFT material, standard in contemporary construction industry and recyclable. The girders rest on steel bracing and concrete foundations. The bridge-way is clad in local wood. They are equipped with spotlights with color changing capabilities. The light shines through the glassy end plates into the pneumatic structure and illuminates the Tensairity girders from inside. The color of each Tensairity beam can be dynamically changed and controlled by software and interesting light patterns over the whole bridge structure can be realized. Neutral and transparent during the day, the bridge can display dynamic lights during the night. The orchestration of the light will be the work a scenographer and may be integrated into the festive activities of the European Capital of Culture in 2012. Artist may pro- gram the bridge to resonate the ambient light of a second sun-down or use it to reflect the city's state of mind and emotion.
Author: Aurel von Richthofen

Place: Maribor, Slovenia
Year: 2010
Size: 130 m
Type: Competition
Client: Maribor European City of Culture 2012